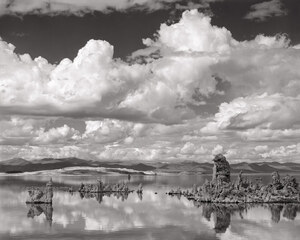 Clouds over Mono Lake, California
It can take a long time for a photograph to grow up, longer than one might suspect.  It has a lot to do with technology and something to do with skill and insight as well. That famous moonrise over Hernandez, New Mexico took some 32 years to mature. This one had come pretty far by the time it was six, but at 41 it reached what I have to consider a truly mature state, and a far better thing it is. I've recently seen the long-hoped for confluence of many elements into a wonderfully complete system for rendering images in both electronic and printed forms with what I'm sure is a complete opportunity for one's skill to evoke whatever it would wish for from a given camera capture. And it's true for both color and B&W. None too soon, as I started all of this 48 years ago.
What a lovely summer afternoon it was at the south shore of the lake, long before it became such a big destination, and before the recently-exposed tufa towers had worn away from exposure to the elements caused by the falling lake level, itself caused by LA's large diversions of the lake's incoming fresh water. It was storming, up in the mountains. Capturing a moving scene like this correctly with a view camera is a lot more difficult than one would guess. Between your final upside-down, backwards and dim view of the scene on the groundglass and the moment of exposure, several steps have to be accomplished, and thus one must lead the moving clouds as if manning an anti-aircraft gun aboard a ship in the Pacific Theater. I was close enough to the target in this case that perfect balance was achieved in the end.
Speaking of saving Mono Lake from LADWP, my friend Timothy F. Such is the unsung hero of that effort, hands down. It's a long story involving many lawsuits filed and won, building to the momentous Supreme Court of California decision upholding the principle of the public trust doctrine which demanded that the lake not be destroyed by any entity's actions. The same principle applies to the sky, and it should be upheld — at all costs. It turns out, we really, really need the sky. Who would have guessed? (There are a lot of people whose salaries depend on convincing you we don't.)
Clouds over Mono Lake, California
1975
Clouds over Mono Lake, California 1975