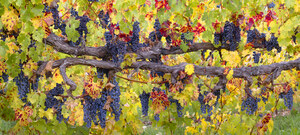 Autumn cabernet, Sonoma County, California
I was fortunate to gain access to a private vineyard for three mornings in a row, thanks to the efforts of Chris Foster, another photographer who has done a lot of work in California's wine country. After one morning here, he suggested that we plan the next morning for another location but I insisted that we should return here for another try. This picture, and each of the other two vineyard pictures on my site, was made on the subsequent days. Grapes like these unbelievably delicious cabernet fruit are harvested before the fall color arrives, so one doesn't see both together, making this an very special opportunity. The owner didn't like the price he was offered, so he skipped the harvest entirely. The morning light was exquisite, as the sun ever so slowly crept along the edge of a forested ridge, keeping the backlight soft for long enough, and slowly melting the light touch of frost.
The master file consists of 98 million pixels of medium format capture, assembled from six frames made with a Phase One back. The realism attainable with this method today had never been feasible. It's now actually possible to make a photograph which captures all of the exquisite detail visible in a scene, and indeed to often go well beyond what sharp eyes can see, while doing so with stunningly accurate color and/or expressive interpretation.
Autumn cabernet, Sonoma County, California
2007
Autumn cabernet, Sonoma County, California 2007